A Woman's Guide to Foot Fashion
I think that as long as you have your own personal style and the confidence to back it up, you'll look great. A big smile is your best accessory.
— Celine Ouaknine, Cece L'amour Footwear & Bebe Shoes designer
Fashion is a head-to-toe affair — and if you want to turn some heads when you walk down the street, step out in shoes that show your style.
"When choosing the perfect shoe, you need to consider occasion, climate, comfort, color and trend," said Brooke Hyden, style expert for Zappos.com, in an interview.
"When I shop for shoes, I typically ask myself, 'Where will I be wearing these shoes?' Next, I think about the color. And finally, but most importantly, comfort." Selecting shoes that work for you is personal, but with a few guidelines we can help you take the stress out of finding new footwear.
Boots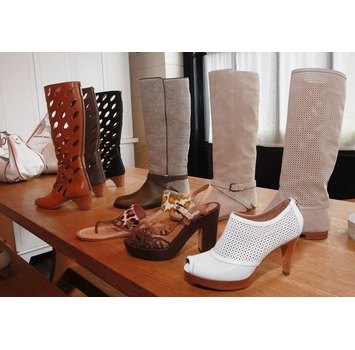 Boots are traditionally considered winter wear, but with the popularity of ankle boots, women are wearing them in every season.
Celine Ouaknine, who designs Cece L'amour footwear and Bebe Shoes, says that boots are very popular right now and that you may pair them with anything from skirts to shorts to jeans.
"Both full-length and ankle boots look great with skinny jeans or leggings," Ouaknine said, "but I'd say that usually ankle boots look better with skirts."
ShoeDazzle stylist Melis Kuris says that if you decide to pair ankle boots with a skirt, reach for the tights. "For winter, do tights, always," said Kuris. "I think boots look silly without tights. I would always suggest wearing a black opaque tight with an ankle boot."
5 Necessary Shoe Colors for Every Closet
Every woman knows to have a black, brown and gray set of shoes as her go-to footwear, but colorful shoes add a fresh pop to any outfit. Certain colors work especially well as accents:
Burgundy — ShoeDazzle stylist Melis Kuris says that burgundy shoes are all the rage. Pair them with a simple black outfit to make a fashion statement.
Neon Pink — Brooke Hyden, style expert for Zappos.com, says neon colors are unexpected and fun. Eye-popping pink works well with a white or cream ensemble.
Gold — Kuris says golds and coppers are perfect with subdued natural tones, drawing attention to the foot naturally.
Turquoise — Whether you opt for a light turquoise or a darker teal, this blue-green shade is a perfect accent to a deep brown or light gray outfit.
Mustard — Kuris says that with the advent of colored denims, autumn-colored shoes have become more popular. That range of colors includes burnt sienna and tobacco.
Wedges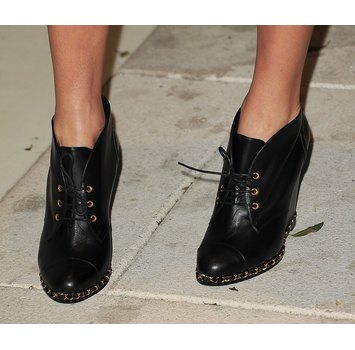 Wedges come in many forms: sandals for summer, boots and booties for fall and as pumps for spring and evening wear. Designers make wedge booties with closed toes, so you can wear them in chilly weather conditions, but still look chic.
"Wedged booties or closed-toe wedges are great for winter for that extra support in rain or snow," Kuris said. She recommends wearing them with skinny or wide-leg jeans and a boho chic 1970s billowy top.
For summertime wear, Hyden likes a classic California-girl look. "Wedges are a key summer essential," she said. "I love to pair my wedges with a printed maxi dress or some cute white linen pants and layered tanks. It's a quintessential Cali beach look."
Pumps and Heels
"Everything looks good with heels," Kuris said. "Every woman should have a classic pair of black pumps in their closet, and you can literally wear them with anything."
Hyden agrees. "Heels are appropriate at any time of year," she said. "They instantly glam up an outfit and make you feel sexy the moment you step outside, whether you are going to an evening cocktail party or just want a cozy winter look."
Naturopathic physician Dr. Robyn Hughes cautions against wearing heels too often. "Wearing footwear with elevated heels, toe taper, and toe spring causes feet to become misshapen," she said. "The big toe points toward the second toe, other toes become bent, the joints in our feet become stiff, and painful conditions arise."
To counteract this, keep a pair of comfortable, wide-soled flats in your car, purse or office at all times, and slip them on when your feet are crying out in pain.
Flats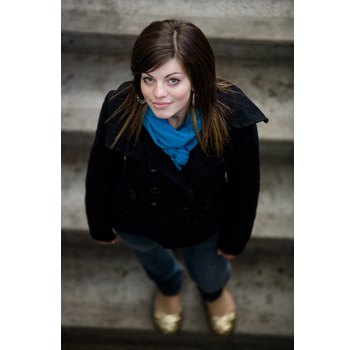 Whether you'd like a feminine ballerina style, something with a pointy toe, or a trendy shoe with grommets and metal details, flats can look chic and feel fabulous. And, they're wearable any season.
Hughes recommends dressy flats as an alternative to heels. Ouaknine says that flats are best for going casual, but adds that jeweled flats can spice up any nighttime outfit.
Hyden also agrees that they are wardrobe essentials. "Flats are one of those things that are a necessity in every woman's wardrobe," she said. "They can be dressed up for a chic, yet comfortable night on the town, or paired with jeans and a tee for a casual weekend look."
Sandals
Save those sandals and other open shoes for warmer weather. Kuris recommends wearing them with sundresses, maxi dresses and skirts. She says the only thing she wouldn't pair with a sandal is a boot-cut jean.
Ouaknine suggests a high-heel sandal to take you from day to night during the summer.
It's best to restrict flip-flops to the most casual of casual settings. Never wear them to the office — even on casual Fridays. Dressier sandals are fine for most offices in the summer months, but take your cue from co-workers to make sure your shoe or sandal choice is appropriate.
Whether you choose flat sandals or strappy heels, to make them work, your feet have to look their best. Clean and trimmed nails are a must, and cracked or peeling polish are fashion "never-dos."
Ouaknine notes that attitude plays a part in how the overall look takes shape. "I think that as long as you have your own personal style and the confidence to back it up, you'll look great!" she said. "A big smile is your best accessory."